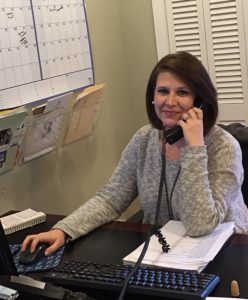 As a Loan Operations Specialist, Robin Forrester admits that she does a lot of "paper-pushing" – and she loves every minute of it.
"I process loan documents, communicate with lenders, handle applications, pull credit files, and help book loans," she says. "What I love about it, what makes it meaningful, is that we are helping our clients' dreams come true."
Forrester is originally from Gainesville but has lived in Cleveland for 22 years, where she worked as an assistant head teller at United Community Bank before coming to ACE in 2016.
"I especially love working with our clients who are very personable, nice people," she says, "and I love to come to work to be with my colleagues because we are all one big family here."
Loan Operations Manager, Lynn Sizemore, adds, "Robin is a great asset to ACE.  Her professionalism with our clients is top notch.  We are blessed to have her on our team."
In her down-time, she stays active in her church and spends quality time with her family. Forrester and her husband, David, have a son, Andrew, 15, and a daughter, Alyssa, 19.