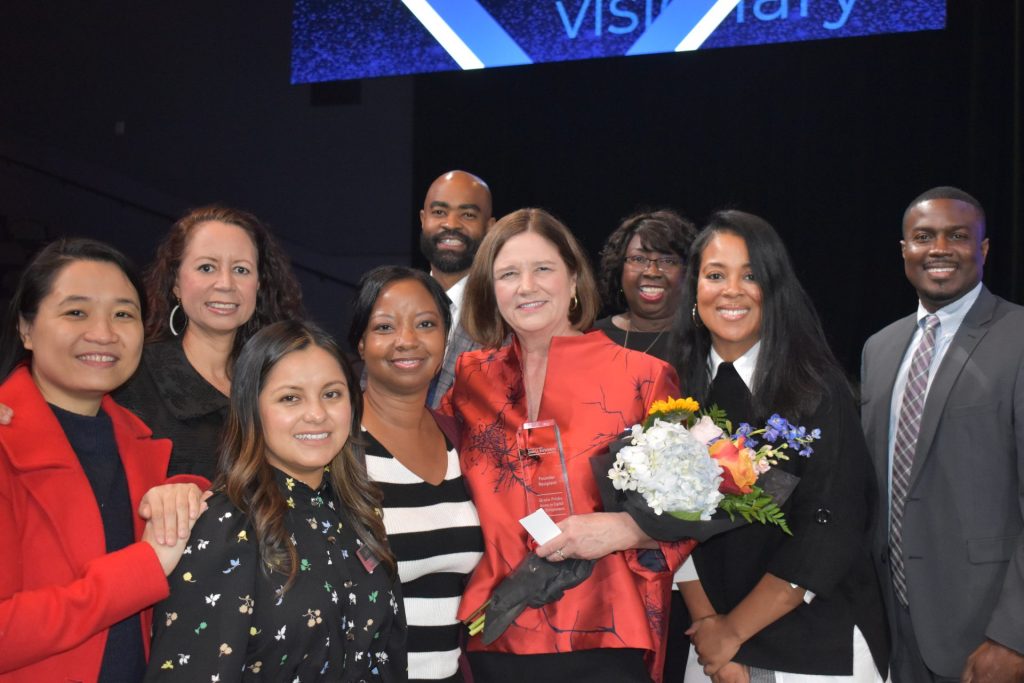 ACE's talented, mission-driven management team is its most valuable asset. With experience including banking, economic development, social work, and consulting, the team integrates the wisdom of experience with the enthusiasm and technical savvy of next-generation entrepreneurs. Actively engaged on all fronts, the ACE team has never wavered in a commitment to provide assistance to the people in our communities and create jobs in Georgia. In a reflection of the communities we serve, our staff is ethnically diverse and live in rural, suburban, and urban communities throughout North Georgia.
Our Staff
---
Grace Fricks
President and CEO, MBA
Fricks founded award-winning ACE | Access to Capital for Entrepreneurs, Inc., a Georgia CDFI that helps under-resourced business owners grow their businesses through capital, coaching and connections. ACE has now provided more than $170 million in loans, assisted more than 2,400 small businesses, and impacted over 19,000 jobs for Georgians. In 2019 Fricks was recognized as a Corporate Diversity Champion at the Atlanta Business Chronicle's Diversity and Inclusion Awards. She was honored with a Vision of Excellence Award by the Atlanta Business League and named Financial Services Champion of the Year by the SBA Georgia District Office. While she is identified as one the 100 Most Influential Georgians by Georgia Trend Magazine, when asked what her greatest strength is, she will tell you that it is her ability to empower others to fulfill their dreams. That's what she's good at, and that is what excites her. Fricks currently serves on the Boards of Appalachian Community Capital, Atlanta Emerging Markets Inc., Village Micro Fund, and the Veteran Loan Fund. She also serves on The Carter Center Board of Councilors. Fricks, a small business owner for more than 15 years, is also a former Board Member of the National Association of Women Business Owners, Atlanta chapter. Her undergraduate is in social work from University of Tennessee at Martin and her MBA is from the University of Memphis.
Contact Information:
678-335-5600 ext 101
Ray Pennie
Chief of Business Advisory Services
Ray Pennie is the Chief of Business Advisory Services (CBAS) for Access to Capital for Entrepreneurs (ACE). As a member of the management team, Pennie serves as the leader of business advisory services for all Georgia markets. This role oversees and supports the development and offerings of tailored, innovative, and comprehensive solutions for specific client business needs. He also spearheads business advisory initiatives that are supportive and consistent with ACE's overall mission of providing loan capital to small businesses with a targeted strategy of serving women owned, minority owned and low to moderate income entrepreneurs. He leads and develops the implementation of the business advisory service programs by working closely with ACE's leadership team, to identify lending products that are appropriate for ACE's target markets. Prior to joining ACE, Pennie was Vice President of Business Development for Clearpoint, and was responsible for managing a national business development team that expanded Clearpoint's mission of financial capability, education, and counseling outreach to underserved economic groups. His team was instrumental in developing new and diverse revenue streams by forming strategic alliances with national corporations and non-profits to further expand the agency's footprint and reach. He has more than 28 years of experience in the banking sector working in commercial, residential lending and asset management. He currently serves on the Board of Directors for the Better Business Bureau of Metro Atlanta, Athens & North Georgia. Pennie also has been nominated to serve as the Southern Regional Council Chair for Association for Enterprise Opportunity (AEO). Before beginning his career, Pennie proudly served for six years in the U.S. Navy as a Cryptologic Technical Operator. He attended Capella University where he studied Business Management.
Contact Information:
678-916-8452
Martina Edwards
Chief of Strategic Partnerships
Edwards has more than 20 years of experience as a business professional and nonprofit leader, including work in fundraising, strategic partnerships and relationship management. She was the first African American female stockbroker for Merrill Lynch at the New York Stock Exchange (NYSE) in its 200+ year history. Currently Edwards is Chief of Strategic Partnerships for ACE | Access to Capital for Entrepreneurs – the largest exclusively small business focused CDFI in the state of Georgia, providing capital, coaching, and connections to underserved entrepreneurs. With 20 years of Wall Street and nonprofit experience, Edwards delivers solid results in operations, strategy, and finance. In just under three years, she has helped ACE secure over $40 million in grant funds, including the largest individual and corporate grants in its history. Prior to joining ACE, Edwards was Vice President, Corporate Partnerships at Points of Light in Atlanta and Senior Director of Alternative Investments for Sponsors for Educational Opportunity in New York City. She also served as Interim Executive Director and Director of Finance for Kaplan Higher Education College in Maryland; a Private Client Manager at US Trust; and a New York Stock Exchange (NYSE) Equity Trader for Merrill Lynch. Edwards is a Leadership Council member for Junior Achievement of Georgia and Advisory Board member for Zane Venture Fund – a first time fund focused on investing in early-stage companies with diverse founding teams in the Southeast. She also serves on various organization boards and committees, including: Member of the GA Social Impact Collaborative (GSIC) CDFI Task Force; GoATL Economic Inclusion Investment Committee; and Black Executive Leadership Team Community Advisory Council – Bank of America. An Atlanta Business Chronicle 2022 Women of Influence Honoree, recipient of the Atlanta Tuskegee Alumni Chapter 2019 Pioneer Award, the 2018 Atlanta's Women of Distinction Non-Profit Sector Award, a 2017 Fellow of New Leaders Council Atlanta, and member of Delta Sigma Theta Sorority Inc., Edwards is actively engaged in her community. She earned a B.S. in Finance from Tuskegee University and an MBA from UNC, Kenan‐Flagler Business School, where she completed an exchange at the University of Witwatersrand in South Africa and global immersions in India and Mexico. She is also a mother of two energetic boys and keeps it all together with the support of her spouse.
Contact Information:
470-615-1279
Sandra Font
Senior Director, Women's Business Center
Font oversees the overall management of the programs and day-to-day operations of the WBC which covers the metro Atlanta area. She helps women entrepreneurs reach their full potential by providing coaching, training, connections, and access to the resources they need to ensure businesses growth and success. She serves as the primary interface with SBA resource providers, governmental offices, business owners, non-profits, and funders. Since its inception in 2015, the WBC has served over 10,000 clients. Sandra also provides guidance and support to the Director of ACE's WBC in Savannah. Font has 25 years of non-profit experience. In 2009, she joined Consumer Credit Counseling Services d/b/a Clearpoint Financial Solutions, where most recently she was Director of Business Development for the Southeast Region. In that role she managed a team, oversaw more than 50 account relationships, and maintained local and national partnerships with corporations, foundations, nonprofits and government agencies. Font also held the positions of Community Relations Director and Operations Manager for Spanish Language Services. Prior to joining Clearpoint, Font worked for the Georgia Hispanic Chamber of Commerce for 11 years. She held various positions, most notably as Interim President in 2008 and Vice President and Chief Operating Officer from 2000 to 2008, providing leadership to 1,200 Chamber members and building long-term relationships with top tier business executives and government leaders at the local, state and national levels. She has served on several boards and committees such as: Georgia Piedmont Technical College, Macy's Atlanta Advisory Council, BB&T Fulton/DeKalb County, Better Business Bureau of Metro Atlanta, State Bar of Georgia, and GA Minority Supplier Development Council. In June 2008 she was recognized by the Atlanta Business Chronicle as one of the "100 Most Influential people in Atlanta." In 2022, she was the recipient of the SBA's National Women's Business Center of the Year Excellence Award for 2022. Additionally, during the 2022 SBA Small Business Week Awards Luncheon, she was awarded the Georgia District and Southeast Region IV Women's Business Center of the Year Awards. Font is a graduate of Leadership Atlanta Class of 2008 and a Graduate of Regional Leadership Institute, Class of 2006. She was born and raised in Barcelona, Spain, and earned a B.S. degree in Management.
Contact Information:
678-916-8468
Eric Swilling
Director of Lending
Swilling supervises the lending team and oversees loan production, ensuring that goals of capital deployment and programmatic impact are met. He uses his relationship building skills to lead business development for lending and cultivate key strategic partnerships. Swilling has a long history with ACE, working on the credit team previously, as well as serving as a trusted partner providing underwriting services through Swilling Underwriting Services, LLC. Prior to his work with ACE, he was the VP Commercial Lender at SCBT, where he developed and managed a $32 million loan portfolio consisting of commercial and consumer mortgages, equity lines and various installment loans. Swilling is a graduate of Capella University's School of Business, obtaining a BSBA in Finance. He later received his MBA in Accounting from Capella University.
Contact Information:
678-274-6555
Shanon Stewart
Chief Credit Officer
Stewart is the Chief Credit Officer and is responsible for the overall risk of the portfolio. He has more than 25 years of banking experience serving in various roles as Assistant Vice President/Sr. Branch Manager at South State Bank, Vice President of Operations and Information Technology with Mountain Heritage Bank, and as a Commercial Loan Officer with Regions Bank. A Georgia native, Stewart attended both Gainesville College and American Intercontinental University. He is a graduate of Georgia Bankers Association (GBA) Georgia Banking School and GBA Southern Operations and Technology School. Mr. Stewart has served on the Rabun County Habitat for Humanity Board and served on other charitable organizations such as Fight Abuse in the Home (F.A.I.T.H.).
Contact Information:
678-916-8449
TOMMIE BETH WILLIS
South Georgia Regional Director
Willis manages the ACE office in Tifton which serves and supports small businesses throughout the South Georgia region. Prior to joining ACE she served as president of the Moultrie-Colquitt County Chamber of Commerce since 2016. Her efforts at the Chamber were focused on community involvement, promotion and membership benefits, and managing daily operations and the Chamber of Commerce staff. Willis' extensive experience and connections in South Georgia made her an ideal match for the opportunity to make ACE's expansion more effective. She has a passion for working with businesses and seeing them succeed. With her leadership, ACE's partnerships with other local CDFIs, and her many connections made throughout the years, she helps entrepreneurs across the region benefit from the services ACE provides. Born and raised in Colquitt County, Willis is a graduate of Colquitt County High School, and is a native of the Norman Park community. In addition to her work in community development, Willis brings 30+ years of marketing experience and 20 years of business management experience. She has served on the United Way of Colquitt County Board of Directors, the SRTC Marketing Program Advisor Committee, the CrossRoads For Her Ministry Advisor Committee, and the GACCE (Georgia Association of Chamber of Commerce Executives) Board of Directors for Region 10. She is also a member of the Moultrie Kiwanis Club, and a member of the Heritage Church in Moultrie.
Contact Information:
229-270-1620
---
April Berry
Commercial Loan Officer
706-847-4246
Alejandra Diaz
Program Coordinator, WBC – Metro Atlanta
678-916-8466
Alexandria Jones
Staff Accountant
678-916-8462
Alphonza Gibbs
Financial Analyst
470-646-3197
Andrea Gibbs
Credit Analyst
678-916-8455
Andréa Chambers
Asst. Director, Fund Development
678-916-8459
Atisha Rainey
Accounts Payable Specialist
678-916-8447
Bonita Doster
Small Business Loan Officer
678-938-8424
Brandy Simpkins
Program Coordinator, WBC – Savannah Region
912-521-8114
Candi Fuller
Loan Operations Specialist
678-916-8456
Chris Clay
Commercial Loan Officer
470-471-0464
Corina Adkinson
Financial Analyst
470-646-3199
Courtney Lynn
Credit Risk Portfolio Manager
678-916-8453
Glenn Bachman
Financial Advisor
470-646-3195
Guy Ramos
Collections/ Recoveries Specialist
470-646-3028
Huong Vo
Controller
678-916-8465
Jeff Moody
Grant Writer
678-916-8451
Juan Colon
Financial Advisor
470-646-3198
Karen Málaga
Business Advisory Manager
678-916-8461
Kimberly Jackson
Grants Mgmt & Reporting Specialist
678-916-8464
Lynn Sizemore
Loan Operations Manager
678-916-8458
Marietta D. Murton
Small Business Loan Officer
770-826-7899
Misty McCrackin
Loan Operations Specialist
770-648-1966
Nancy Howard
Marketing & Communications Specialist
470–615-1288
Ophelia Brown
Staff Accountant II
470-646-3128, Ext 138
Robin Forrester
Loan Operations Specialist
678-916-8463
Rhonda Armstrong
Compliance Administrator
470-289-4428
Ruth Ann Whatley
Executive Assistant to the President
ACE Board Corporate Secretary
678-916-8446
Sandy Headley
Vice President
678-916-8460
Vernell Stewart
Director, Women's Business Center- Savannah Region
912-521-8115
Vonda Echols
Small Business Loan Officer
678-916-8469