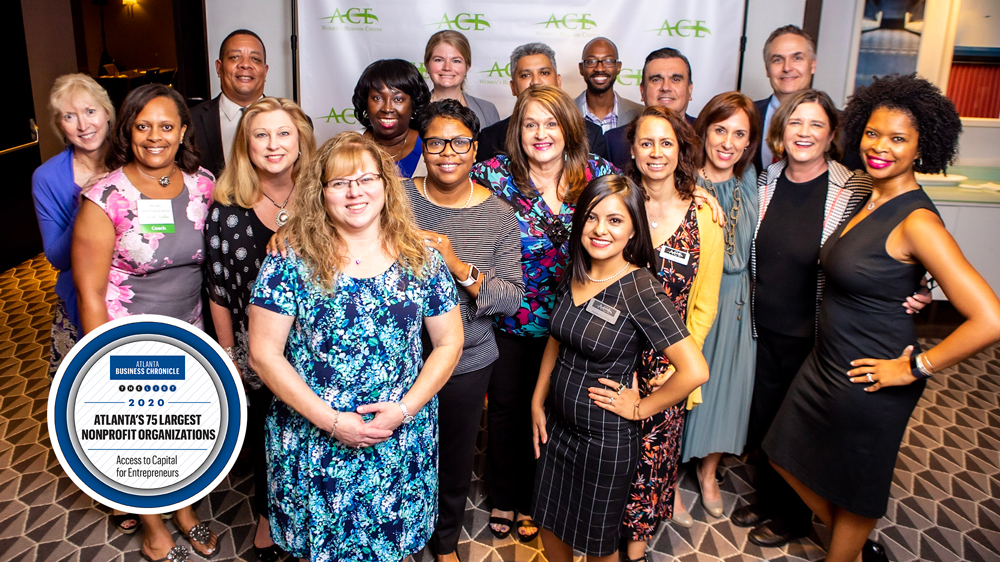 ACE's talented, mission-driven management team is its most valuable asset. With experience including banking, economic development, social work, and consulting, the team integrates the wisdom of experience with the enthusiasm and technical savvy of next-generation entrepreneurs. Actively engaged on all fronts, the ACE team has never wavered in a commitment to provide assistance to the people in our communities and create jobs in Georgia. In a reflection of the communities we serve, our staff is ethnically diverse and live in rural, suburban, and urban communities throughout North Georgia.
Our Staff
---
Grace Fricks
President and CEO, MBA
Fricks founded award-winning Access to Capital for Entrepreneurs, Inc. (ACE), a Georgia nonprofit organization that helps underserved business owners grow their businesses through capital, coaching and connections. In 2018, Bank of America and SunTrust Foundation honored ACE for outstanding impact – we have now provided more than $100,000 million in loans, assisting more than 1,400 small businesses, and helping create or retain 12,000+ jobs for Georgians. Fricks is one of Bizwomen's 100 Women to Watch, a Women Who Mean Business Honoree by Atlanta Business Chronicle and one of the 100 Most Influential Georgians by Georgia Trend Magazine. She was honored with a Vision of Excellence Award by the Atlanta Business League and presented with the Inaugural Lifetime Achievement Award by Startup Atlanta. SBA Georgia named Fricks as Financial Services Champion of the Year. When asked what her greatest strength is, she will tell you that it is her ability to empower others to fulfill their dreams. That's what she's good at, and that is what excites her. Fricks currently serves on the Advisory Board for Atlanta's Women's Entrepreneurship Initiative (WEI), the Board of Directors of Appalachian Community Capital, the Fifth Third Advisory Board and Invest Atlanta's New Market Tax Credit Board. She is a past member of the National Board of Directors of the Association for Enterprise Opportunity (AEO) and Board of Trustees of North Georgia Technical College. Fricks, a small business owner for more than 15 years, is also a former Board Member of the National Association of Women Business Owners, Atlanta chapter. Her undergraduate is in social work from University of Tennessee at Martin and her MBA is from the University of Memphis.
Contact Information:
678-335-5600 ext 101
Ray Pennie
Chief of Business Development
Pennie is the Chief of Business Advisory Services for ACE and serves as the leader of ACE's program services and entrepreneur educational activities. Prior to joining ACE, Pennie was Vice President of Business Development for Clearpoint, and was responsible for managing a national business development team that expanded Clearpoint's mission of financial capability, education and counseling outreach to underserved economic groups. The agency had a special interest in serving low- to moderate- income populations, Hispanics, veterans, and older Americans. His team was instrumental in developing new and diverse revenue streams by forming strategic alliances with national corporations and non-profits to further expand the agency's footprint and reach. Prior to joining Clearpoint, Pennie was Director of Sales at Dividend America Commercial Lending, where he led the business development team. Pennie has more than 28 years of experience in the banking sector working in commercial, residential lending and asset management. Pennie currently serves on the Board for Better Business Bureau of Metro Atlanta, Athens & North Georgia and previously served as Vice President for the PTSA of Chamblee Charter High School. He is a past member of the board of Quest 35 Advocacy, a program for ending veteran homelessness. Before beginning his career, Pennie proudly served for six years in the U.S. Navy as a Cryptologic Technical Operator. Pennie attended Capella University where he studied Business Management.
Contact Information:
678-916-8452
Joshua Brackett
Chief Financial Officer
As Chief Financial Officer for ACE, Brackett oversees the finance, accounting, and compliance departments for the $40 million non-profit. Under his direction, ACE became nationally accredited and successfully secured debt capital from Goldman Sachs, Bank of America, Wells Fargo, PNC Bank, FHLBA and Hamilton State Bank after undergoing rigorous due diligence processes by each institution. Joshua is currently a Board member for Association for Enterprise Opportunity (AEO). He is a Babson College 10,000 Small Businesses Alumni and served on the Aeris Rating Advisory Board and the OFN "Performance Counts" CFO Working Group. A graduate of Berry College with a BS in Business Administration and the Community Bankers Association consumer lending school, Brackett served in banking with experience as a loan collector/auditor, financial analyst, and Finance Manager with community banks.
Contact Information:
678-916-8457
Bonnie Bowling
Chief Credit Officer
Bowling is the Credit Risk Manager and is responsible for the overall risk of the portfolio. She has more than 25 years of banking experience working as Chief Operating Officer at Habersham Bank, Vice President of Credit Administration at a Synovus affiliate, as well as Branch Manager, Compliance Officer and Loan Officer. A north Georgia native, Bowling attended both Piedmont College and North Georgia College. She is a graduate of ABA Banking School, ABA Compliance School and ABA Graduate Banking School. Ms. Bowling has served as President of the Dahlonega Lions Club Board of Directors, Treasurer of Enotah CASA, and volunteers for No One Alone (NOA) and the Community Helping Place.
Contact Information:
678-916-8454
Martina Edwards
Chief of Strategic Partnerships
Martina Edwards has more than 18 years of experience as a business professional and nonprofit leader, including work in corporate fundraising, partnership development and relationship management, where she has delivered strong results in operations, strategy and finance objectives. Prior to joining Access to Capital for Entrepreneurs, Ms. Edwards was Vice President of Corporate Partnerships at Points of Light in Atlanta and Senior Director of Alternative Investments and Alumni programs for Sponsors for Educational Opportunity in New York City. She also worked as Interim Executive Director and Director of Finance at a Kaplan Higher Education college in Maryland, as a Private Client Manager at US Trust and a New York Stock Exchange (NYSE) Broker for Merrill Lynch. In 2004, she became the first African‐American female trading broker for Merrill Lynch on the floor of the NYSE and, subsequently, the only African‐American woman stock trader among the 1,366 members of the NYSE at that time. Edwards' civic leadership includes Leadership Council member for Junior Achievement of Georgia, the Advisory Board for Atlanta Neighborhood Development Partnership and the board for Atlanta Beltline 67. She is also a 2017 Fellow of New Leaders Council Atlanta and member of Delta Sigma Theta Sorority Inc. She is also the recipient of the 2018 Atlanta's Women of Distinction Non-Profit Sector Award and the Atlanta Tuskegee Alumni Chapter 2019 Pioneer Award. Edwards earned a B.S. in Finance from Tuskegee University and an MBA from University of North Carolina, Kenan‐Flagler Business School, where she completed an exchange at the University of Witwatersrand in Johannesburg, South Africa and global immersions in India and Mexico.
Contact Information:
470-615-1279
---
Luis Izaguirre
Senior Lending Officer
678-916-8462
Sandy Headley
Vice President
678-916-8460
Sandra Font
Senior Director, WBC – Metro Atlanta
678-916-8468
Jeff Moody
Grant Writer
678-916-8451
Ruth Ann Whatley
Executive Assistant to the President
678-916-8446
Kimberly Jackson
Grants Mgmt & Reporting Specialist
678-916-8464
Shanon Stewart
Credit Analyst
678-916-8449
Eric Swilling
Senior Credit Officer
678-274-6555
Alphonza Gibbs
Financial Analyst
470-646-3197
Chris Clay
Commercial Loan Officer
470-646-3196
Alejandra Diaz
Program Coordinator, WBC – Metro Atlanta
678-916-8466
Courtney Lynn
Credit Risk Portfolio Manager
678-916-8453
Lynn Sizemore
Loan Operations Manager
678-916-8458
Robin Forrester
Loan Operations Specialist
678-916-8463
Candi Fuller
Loan Operations Specialist
678-916-8456
Juan Colon
Financial Advisor
470-646-3198
Corina Adkinson
Financial Analyst
470-646-3199
Xavier Lawson
Junior Staff Accountant
678-916-8447
Bonita Doster
Small Business Loan Officer
678-938-8424
Nita Penn
Director, WBC – Savannah Region
912-521-8115
Brandy Simpkins
Program Coordinator, WBC – Savannah Region
912-521-8114
Vonda Echols
Director of Community Development
678-916-8469
Karen Malaga
Business Advisory Manager
678-916-8461
Huong Vo
Senior Staff Accountant
678-916-8465
Glenn Bachman
Financial Advisor
470-646-3195
Nancy Howard
Marketing and Communications Specialist
470-615-1288
Philip Thomas
Commercial Loan Officer
706-847-4246