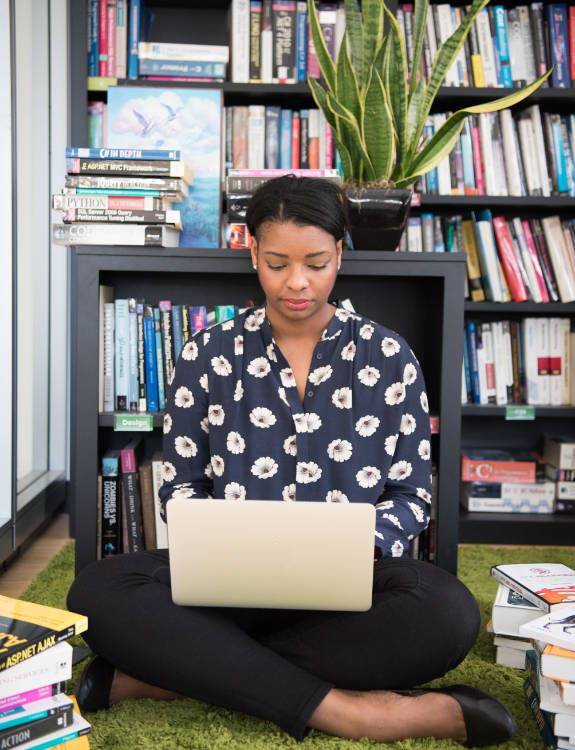 Provided by the ACE Women's Business Center
ACE Women's Business Center will continuously update these resources to provide you with the best information to aid your small business during this time. To ensure the health and safety of our clients and staff, ACE is being proactive by making a few adjustments to our regular business practices. All of our training programs will be presented by webinar and individual consultations will be done by telephone or videoconferencing.
We look forward to continuing to assist Georgia's entrepreneurs.
*This page will be updated as new content becomes available.
---

Funded in part through a cooperative agreement with the U. S. Small Business Administration
Reasonable accommodations for persons with disabilities will be made if requested at least two weeks in advance to make the necessary arrangements.
SBA COVID-19 Relief Options
Economic Disaster Loan Program (EIDL)
EIDL now available through December 31, 2021: for small businesses and nonprofit organizations that are currently experiencing a temporary loss of revenue- More info here:
Small business owners and qualified agricultural businesses in all U.S. states and territories are currently eligible to apply for a low-interest loan due to COVID-19.
Agricultural businesses with 500 or fewer employees are now eligible as a result of new authority granted by Congress in response to the COVID-19 pandemic.
Agricultural businesses include those businesses engaged in the production of food and fiber, ranching, and raising of livestock, aquaculture, and all other farming and agricultural related industries (as defined by section 18(b) of the Small Business Act (15 U.S.C. 647(b)). Learn More
Targeted EIDL Advance
The Targeted EIDL Advance provides businesses located in low-income communities with additional funds to ensure small business continuity, adaptation, and resiliency.
Advance funds of up to $10,000 will be available to applicants located in low-income communities who previously received an EIDL Advance for less than $10,000, or those who applied but received no funds due to lack of available program funding.
SBA will first reach out to EIDL applications that already received a partial EIDL Advance (between $1,000 – $9,000). Applicants will be contacted directly by SBA via email in the coming weeks with instructions to determine eligibility and submit documentation.
All communications from SBA will be sent from an official government email with an @sba.gov ending. Please do not send sensitive information via email to any address that does not end in @sba.gov.
Restaurant Revitalization Fund
The American Rescue Plan Act established the Restaurant Revitalization Fund (RRF) to provide funding to help restaurants and other eligible businesses keep their doors open. This program will provide restaurants with funding equal to their pandemic-related revenue loss up to $10 million per business and no more than $5 million per physical location. Recipients are not required to repay the funding as long as funds are used for eligible uses no later than March 11, 2023.
Shuttered Venue Operators Grant
Applications will open on April 8th to all eligible applicants. Small business owners may qualify for SVO Grants equal to 45% of their gross earned revenue, with the maximum amount available for a single grant award of $10 million. $2 billion is reserved for eligible applications with up to 50 full-time employees.
View the SVOG Application Informational Webinar Recording: Click HERE
Shuttered Venue Operators Grant – Application User Guide click HERE
SBA Ascent
SBA's Ascent is an interactive digital platform packed with resources women business owners need to set, and achieve, their business goals. Ascent is designed for the "missing middle" — growth-oriented women entrepreneurs who are beyond the start-up phase and already generating revenue yet looking to grow and scale. Most learning resources for business owners focus on either start-ups or mature businesses. Ascent is here to change that!
Ascent was created through a joint initiative between the White House, the U.S. Small Business Administration (SBA), the U.S. Department of Labor's Women's Bureau, and the U.S. Department of the Treasury.
Federal Resources for U.S. Small Businesses: The official federal resource website for U.S. small businesses affected by COVID-19 (Coronavirus). https://covid-sb.org/
Small Business Resources
Small Business and Nonprofit Remote Pro Bono
Several major Atlanta law firms and the State Bar of Georgia have partnered together to offer free legal advice to small businesses on pressing coronavirus-related concerns, such as federal relief programs and employment matters, through a free legal clinic. In response to the devastating economic impact of COVID-19 on small businesses and nonprofits, the Small Business and Nonprofit Remote Pro Bono Clinic assists nonprofit organizations and small businesses with 25 or fewer employees who can benefit from a consultation regarding legal issues they are facing as a result of the pandemic. The services are offered in a virtual clinic format in which small businesses are paired with attorneys who can offer assistance in areas related to federal loan relief, lease modifications, insurance, tax, employment, contract enforcement and bankruptcy/dissolution.
Business Resource Links
Recursos En Español