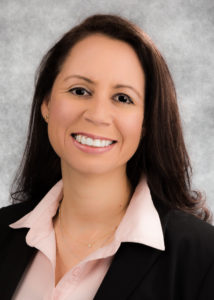 Karen Malaga thinks of herself as a "matchmaker" for ACE.
As the Program and Logistics Manager, she seeks out experts in different fields and pairs up more than 200 clients with the resources and business advisory services they need.
"For example, we have these women who are operating a bodega and bar in Decatur," she says. "They were interested in connecting with someone who could help them be organic and sustainable. We will be connecting them with an urban farmer."
Malaga uses her formidable networking skills to match clients on both a personal and professional level to find the ideal fit, she says. "I have many people on my list, and they help our clients with strategizing," she says. "I really enjoy the one-on-one connections that are so important. I'm interested in people, and I enjoy the process of getting them to trust me."
A native of Peru, she is bilingual and often assists ACE's Hispanic clients. She immigrated to the United States when she was 16. "I fell in love with the country."
Malaga studied in the rigorous school of industrial engineering at Georgia Tech, which focuses on the efficiency of systems. "I'm proud of my degree," she says. "I'm a ramblin' wreck from Georgia Tech and a helluva engineer!"
Before joining ACE two years ago, she worked at a nonprofit in New York City that assisted a human rights attorney; she managed a real estate office; and she was on staff at a development consulting firm. Malaga also took some time off to serve as a stay-at-home mom for her two children – Matteo, 11, and Micaela, 9.
She was drawn to ACE because of our mission. "The people who work at ACE are passionate about what they're doing," she says. "I'm so grateful to have this opportunity, and I feel so lucky. I actually enjoy going to work every day, and not everyone can say that. I don't take it for granted."
In her down-time, Malaga, who lives in Sandy Springs with her husband Ernesto and children, joins her family at soccer games. "We root for Peru, of course," she says, "and now we get to root for Atlanta United. We have season tickets, and that's a fun thing to do as a family."
To get more information on ACE's business advisory services for clients, please visit our webpage HERE.