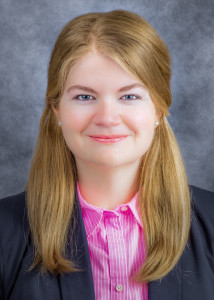 Courtney Lynn's first closing on a loan was for Jolie Day Spa in Dahlonega.
"I've had the privilege of watching them grow from one business to three successful businesses," says Lynn, a Small Business Loan Officer for ACE. "That's what I love most about my job. It's building a connection and a relationship with an entrepreneur and then watching that business succeed, watching someone achieve a dream. I'm so proud of all of my clients that it's hard to single out just one, but Jolie was my first."
Lynn grew up in Dawsonville. She was valedictorian of her high school class and of her undergraduate class at the University of North Georgia, where she studied business management. She went on to get a master's degree in business administration there, and during that time, she worked as an intern at ACE.
"Luckily for us, she decided to stay. Clients warm to her helpful, knowledgeable manner, her lively sense of humor, and her ability to crunch numbers," says Sandy Headley, Vice President of ACE.
When she is not at work, Lynn keeps busy with an energetic social life. She hikes once a week, and she describes herself as an ardent enthusiast of "pop culture" and cos-play. She is the linchpin of a posse of friends who go all out to dress up in crazy costumes for Dragon Con, Walker Stalker Con (a conference based on "The Walking Dead"), and Halloween. "We have different themes for these events," she says. "One year we all dressed up as Johnny Depp."
Lynn also loves to travel. she keeps a corkboard map of the United States with pins that designate the many cities she has explored. She recently added other pins that look like baseballs to mark where she has seen the Atlanta Braves play. "My friends and I are trying to see them at every away game they play," she says. "So far, we've been to six stadiums, with 24 more to go."
All of these pursuits make her offbeat – and upbeat. "Having fun is what keeps you young!" she says.
If you are looking for information on a business loan in the North Georgia area, reach out to Courtney Lynn at 678-916-8453 or lynn@aceloans.org..