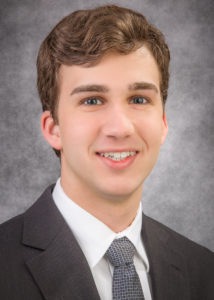 Although he is a youthful 24, Cameron Cohran, ACE's Financial Analyst, has already started thinking in terms of legacies. "The most satisfying part of my job is building something that we all know will be around for many years to come, making an impact on the community," he says, of his work for ACE.
Cohran grew up in Clarkesville and attended Berea College, where he earned a degree in business administration with a minor in economics. "Because I grew up in an economically challenged household, I really wanted a job that improves the livelihood of others," he says, "so I applied for an internship at ACE, but there were no openings."
For a while, he worked at DIRTT Environmental Solutions, which promotes sustainability in building, but then an opening at ACE presented itself, and he joined us in 2016.
Joshua Fricks, ACE CFO, speaks highly of Cameron, "He has added great value to the staff, bringing his analytical skill sets to the table.  This has allowed us to recognize and use the data we gather in new ways.  Measuring and following up with our clients to update system data also improves ACE's ability to serve more businesses within our target markets.  Cameron's contributions have gone far to ensure that ACE will be able to achieve its future growth goals for years to come while maintaining the integrity of our data and processes."
"A typical day consists of working with other ACE employees to complete projects that improve ACE's capacity to expand," Cohran says. "I also research our impact and financial performance. Some days I work on tasks that streamline our processes. Other days, I may be contacting clients to gather information for annual impact reports."
When he is not on the clock, Cohran enjoys whitewater kayaking, playing the violin, and traveling. "I've been to five countries so far," he says.
Ultimately, he wants his wanderlust to carry him abroad to work in development finance. "Still, I thought: Where better to start than right here in my backyard?"