As an Administ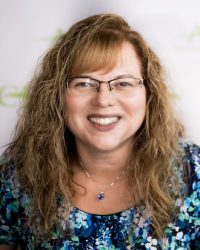 rative Assistant, Candi Fuller checks off a lengthy to-do list to keep things running efficiently in our Cleveland, GA office. She fields incoming calls, processes mail, works on loan operations, does quality assurance on files for loan operations, contacts customers for information updates, and sends acknowledgment letters to donors. She also greets the clients who walk in.
"I do a little bit of everything," Fuller says, "anything for anyone who might need it, in any department."
Fuller reports directly to Ruth Ann Whatley, who is the Executive Assistant to the President.
"We're so pleased to have Candi at ACE," Whatley says. "Her work ethic and positive attitude make her the ultimate team player.  She's also a great multi-tasker which allows her to assist in many areas of our operations. She's been able to take on some responsibilities that have helped our credit and lending teams immensely, in addition to day-to-day tasks that help the entire Cleveland office."
Fuller grew up in Adams, New York. Her career includes 30 years in administrative support, including a few years in human resources. She graduated from South Jefferson High School and holds two one-year Vocational Certificates in Office Practice and Advanced Business Machines from the Charles H. Bohlen, Jr. Technical Center, and she attended Jefferson Community College for Business Administration.
Before coming to ACE in October, she worked at the Credo Community Center for the Treatment of Addictions, Inc. in Watertown, New York.
"I prefer working for nonprofits," she says. "It's such a different perspective from the for-profit world. I was drawn to ACE because the organization cares about making a difference. We help people who wouldn't get funding otherwise. "
How did she come from Northern New York to North Georgia?
"I reconnected with my high school sweetheart," she says. "We were each other's first love at age 16. He lived here, so I moved here to be with him."
The couple loves to explore their local surroundings and to travel. They're planning a cruise in October.
"I just feel very lucky to have landed at ACE," Fuller says. "I love my boss, and I enjoy all of my co-workers. And I love to meet the clients we are helping and hear their stories."