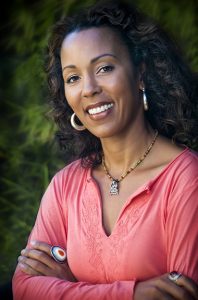 Lake Louise has coined an original word for her vocation. She calls herself an "ecopreneur."
She has developed a line of health and beauty products called SMB Essentials that includes the brands Lotus Moon, DetoxRx, and Plain Jane Beauty. All of them apply the ethos of sustainability, whole-body wellness, and a vast knowledge of salutary ingredients that enhance natural beauty.
In an interview with "Makeup for Melanin Girls," she explains: "The beauty industry, like Hollywood, is very political and has had the influence to define the standard of beauty. We often define ourselves by the images we see around us. And if we don't see images that reflect ourselves, the question becomes 'Do I even exist in the eyes of society? Do I even matter? Is there something wrong with me?'"
Louise counters these pressures with the names of her cosmetics, which include "I am Radiant"; "I am Magnificent"; and "I am Amazing."
"As a former high school teacher and university professor," she adds, "language and words are important to me. I really wanted to change the messaging around beauty, and this was my first step."
Louise, a native of San Francisco, started her business in California but eventually relocated to Suwanee.  In 2016, she acquired a loan from ACE to provide working capital for marketing and inventory, with an emphasis on environmentally correct packaging for her products. For example, her elegant makeup compacts are made of compressed paperboard instead of plastic — eco-friendly as well as aesthetically pleasing and fun to use.
"I have never received as much support for my business as I have from ACE," she says. "I want to take out another loan just to stay with them! I take advantage of everything they have to offer, from seminars to advisory services. They really want you to succeed, and as long as you do your part, they will go the extra mile."
Louise brings a well-traveled background to her work. She earned a bachelor's degree in social sciences from San Francisco State and a master's in education from Stanford. She worked as a high school teacher and then as a professor of ecotourism in Costa Rica.
"As my professorship at the University of Costa Rica was coming to an end, I began thinking about what the next chapter of my life would look like because I wanted the next phase of my professional life to be something I was especially passionate about," she says. "Being committed to clean and healthy ingredients, I actively researched to better understand the history of making safe and non-toxic product blends."
In the beginning, Louise blended ingredients to create healing products for cuts, injuries, and inflammation. Her first product was designed to heal scars.
"From there, effective natural and organic ingredients became a priority for my customers as well, leading to the development of anti-aging products," she says. Lotus Moon Skin Care was born, followed by Plain Jane beauty, our natural, organic makeup brand."
Her business grew from 2,000 square feet of warehouse space to 10,000, and she plans to add two full-time employees to handle social media and product distribution. Louise also is launching a grooming kit for men called "Son."
"Men are simpler creatures, so they just need the basics," she says with a laugh. "I am determined to continue to grow my business, and the loan from ACE has helped me on this journey to provide safe and non-toxic skin care and makeup for all skin types, shades and conditions."