Ms. Niecy's Home Away from Home Learning Center Inc. is more than just a day-care facility. The daycare provides a nurturing enrichment program that strengthens cognitive development, plus plenty of fun, for children six weeks old to 12 years old.
"Stimulating our students' developing minds through engaging learning activities creates strong educational foundations," says John Kimbrough, who founded the business in Southwest Atlanta with his wife, Juanisa. "We're trying to save the world, one child at a time."
The couple developed this idea when they were seeking child-care for their twin sons, who have cerebral palsy. "We would either find a good center with unqualified or unfriendly staff, or a poorly run center," he says.
In 2009, they decided to meet the market's needs themselves, in their own home. "We started small but grew quickly and got quality ratings," he says.
The Kimbroughs knew they needed to expand, but finding the funds to purchase a facility proved challenging.
"Traditional banks didn't want to lend to us because we are technically a nonprofit," he says. "Nobody wanted to take a chance with us."
Then they saw a brochure for ACE. "The 'access to capital' part really stood out to us, and it turned out they were willing to believe in us."
The Kimbroughs were not finished yet, though. "We had our eye on a piece of property next door, so we got another ACE loan," he says. "Then we got a third loan for another piece of property. We pretty much own the entire block now, all because of ACE."
Ms. Niecy's serves more than 150 children and employs 20 staffers, with plans to add more teachers. The business has shown revenues over $600,000 annually.
"The Kimbroughs have shown dedication to improving their business and keeping it sustainable, and Ms. Niecy's makes a difference in its community as well, by creating jobs," says Anthony Flack, Commercial Loan Officer for ACE.
Flack presented the couple with The Commercial Entrepreneur of the Year award last year.
Kimbrough says he especially enjoys the business counseling he receives from ACE.  "I tell everyone – especially women and minorities – to attend ACE's classes," he says. "We're very happy with our relationship with ACE and want to give back to show how much we appreciate them."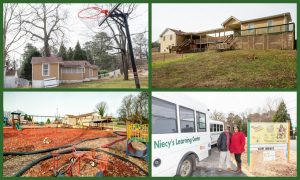 (Photo credits: Koko Hunt Photography)