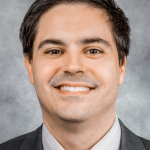 ACE is pleased to announce that Joshua Brackett, our Chief Financial Officer, has joined the Board of Directors for the Association for Enterprise Opportunity (AEO).
"We are excited that Joshua has joined our board," says Susan Patterson, Vice President and Communications coordinator at AEO. "We look forward to working with him in advancing our mission."
Grace Fricks, President and CEO of ACE, also added, "We are proud of Joshua for stepping up to help in the community. This is just another example of how our ACE team cares."
AEO is a national membership organization and voice of microbusiness development in the United States. For more than two decades, AEO and its hundreds of member organizations have helped more than two million entrepreneurs from underserved backgrounds support themselves and their families and contribute to their communities through business ownership. AEO has secured more than $300 million in federal dollars for participants since 2001, and member organizations have received around $20 million in private funding.
As CFO for ACE, Brackett oversees the finance, accounting, compliance and loan operations departments for the $28 million non-profit.  Under his direction, ACE became nationally accredited and successfully secured debt capital from Goldman Sachs, Bank of America, Wells Fargo, PNC Bank, FHLBA and Hamilton State Bank after undergoing rigorous due diligence processes by each institution.
A graduate of Berry College, with a BS in Business Administration, and the Community Bankers Association consumer lending school, Brackett has served in banking with experience as a loan collector/auditor, financial analyst, and Finance Manager with community banks.