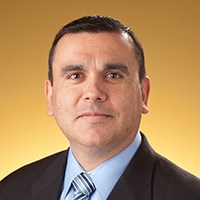 Time after time, for a decade, Antonio Barrios would refer his clients to ACE.
He was working as the area director for the University of Georgia Small Business Development Center at Gwinnett and as a business consultant for the UGA SBDC at Kennesaw State University. "I saw firsthand how ACE helped so many of my clients start and grow their businesses, and I was really impressed," he says.
So impressed that, earlier this month, he joined ACE as our newest commercial loan officer based in our Atlanta office. "I was really drawn to the mission of ACE," Barrios says, "the way access to capital is combined with business advisory services. It's the most effective way to support entrepreneurship."
Barrios, who is bilingual, grew up in Venezuela, where he earned a bachelor's degree in economics from Andres Bello Catholic University, and he emigrated to the United States in 2001. He also holds an MBA in finance from Kennesaw State University.
Barrios brings more than 25 years of professional experience in several areas including financial analysis, business consulting, and business management. He worked for five years as an SBA commercial loan officer for a community bank in Atlanta, and also developed expertise as an economic and financial analyst for PriceWaterhouseCoopers and The Central Bank of Venezuela in the areas of financial planning, market trends, and economic analysis.
"I am especially looking forward to helping and supporting Hispanic entrepreneurs," he says.
When Barrios meets with a new client, he tries to emphasize the big picture. "They usually already have a great work ethic," he says, "but they also need to understand that this can be a long process. I urge them to educate themselves on their finances and what they are bringing to the table."
Barrios lives in Kennesaw. He has a son, Antonio Jr., who is studying computer science at the university there. When he isn't working, ACE's newest employee enjoys some rigorous mountain biking and watching soccer. "I love the outdoors," he says.
He is eager to help entrepreneurs with their commercial lending needs. Please contact Antonio Barrios at barrios@aceloans.org or 678-916-8464.