Visit these ACE clients and let us know what you think!
Make room on your summer bucket list for these great restaurants around Georgia from ACE! We have breakfast to late-night covered, with a few sweet treats thrown in for good measure!  We would love to get your feedback as you make your way through our list!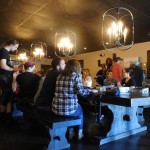 Abbey of the Holy Goats Brewery – Roswell– brewery with tastings. Spend an evening at Abbey of the Holy Goats and commune with your senses as you try the various beers brewed on site.
Arize Breakfast Café – East Point – Breakfast. Offer breakfast food daily and have amazing waffles with cognac sauce, shrimp and grits, and specialty French toasts. A great way to start the day.
Bourbon Street Grille – Dahlonega – Cajun and creole food. They have a patio on the top level overlooking the town square and boast food such as jambalaya, gumbo, muffalettas, and beignets. They also have a full bar that reminds you of New Orleans and offers Hurricanes and other specialty drinks. Brunch on Saturdays and Sundays from 9–2.
Capers on the Square – Dahlonega – Mediterranean food and drinks. Signature cocktails, great food, and baklava.
Culver's – Dawsonville – American/frozen custard. Get some fried cheese curds and a concrete (blizzard, for us Southerners).
Cyra's – Dalton – Multi-cuisine. Offers upscale dining from a chef who specializes in using fresh ingredients to create extraordinary food. The avocado fries will melt in your mouth and the bread pudding with sunflower moonshine sauce is to die for. The pasta is made fresh in-house and the ambiance is casual but also a picture of simple elegance. The whole menu is an experience.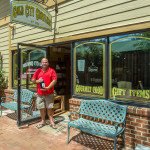 Gold City Growlers – Dahlonega – craft beer, wine, and mixers. Gold City Growlers has several rotating taps of craft beer and is sure to have some perfect for summer. Get a growler for your summer parties and special events.
GrapeVine's Italian Restaurant – Dahlonega – Italian food. Vast menu and a full bar including lots of wine options. The perfect place to stop in with girlfriends after a day of shopping on the Dahlonega square.
Pizza King – Ellijay– Pizza/Italian – Pizza, salads, pasta, sandwiches, wings and more.  Dough made fresh daily. Grab a pizza for summer parties.
Pop Bubble Tea and Coffee Bar – Acworth – Bubble Tea and Coffee. Pop Bubble offers a variety of pop bubble teas, which are fun and delicious. The cool drinks and the sweet bubbles popping in your mouth make for a fun combination.
Pueblo's Mexican Cuisine – multiple locations – Mexican food. Some locations have patios. All locations have fantastic margaritas.
Shenanigans Restaurant and Irish Pub – Dahlonega – Irish pub. Big back patio and lots of live music. Known for their crack dip, they have a full bar, including craft beer and signature cocktails. They also have dollar bills covering the walls and people can post their own.
SmallCakes of Canton – Canton – cupcakes and ice cream. Offers several varieties of cupcakes, but also has ice cream, milkshakes, and other ice cream treats during the summer with several different flavors. You can even get a cupcake mixed with ice cream. The perfect summer treat!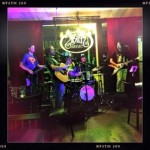 Spirit's Tavern – Dahlonega – American food. Specialty burgers and craft cocktails. Super great atmostphere, great people and live music! All burgers and hot dogs are certified Angus beef.  Vegetarian options are also available. Every meal is "made-to-order."
Stick a Fork 'N It Sports Bar and Lounge – Stockbridge – BBQ. Southern food and bar with sophisticated technology and lots of TVs.  Check Facebook for events – karaoke, DJs, live music, parties, etc.
The Martyn House In Towne – Ellijay– Coffee shop/café. Coffeehouse that offers a cozy environment in a large space perfect for enjoying a cup of coffee, meeting a friend for lunch, or just hanging out with friends. In addition to a vast coffee menu, the coffeehouse also has a small food menu with sandwiches, salads, house made granola, and smoothies.
The Mercury – Atlanta – American fare & classic sips. A cocktail focused, classic American eatery located in Ponce City Market, Atlanta, Georgia. Inspired by the culture of the 1960's, The Mercury promises well–crafted American cocktails and cuisine, inspired by the relaxed glamour of Mid-Century American culture.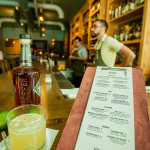 The Pinewood – Decatur – Urban-Rustic Gastropub. Classified as a neighborhood hangout that is both high-class and homespun, with inventive dishes and old-school southern comfort food, all made from locally sourced ingredients. The bar is stocked with top-shelf spirits, house-made syrups, tinctures and sodas.