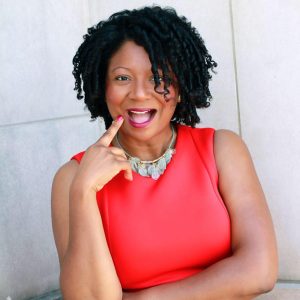 Montina Young Portis was a single parent posting videos on YouTube as a hobby. She amassed 12,000 subscribers to her channel and realized she had a knack for business and storytelling. Six years ago, she launched Creative Internet Authority, rebranded in 2018 as CIA Media Group, a nationwide video production and creative marketing agency that helps companies develop communications content and provides guidance on messaging strategies and external communications, thought leadership strategies and overall communications using videos.
"I spent the last 10 years using videos to share information online and nearly 20 years working in various careers including education, corporate training and information technology," she says. "I spent several years researching and implementing the most effective video marketing strategies online." She took a comprehensive approach with her clients. "My goal was always to tell more than just one story," she says. "We produce 10 to 25 videos that do more than just promote services – they help clients establish themselves as authorities and thought leaders."
Business was good, but the interest rate on her loan was a burden. When she met ACE founder Grace Fricks in 2014, she saw possibilities. "When I first applied, my application was denied but, I didn't give up.  A few years later, I reapplied and was approved! I worked diligently with Bonita Doster and she guided me through the process. By refinancing my loan, the payments were reduced from $5,000 a month to a more manageable $800," she says. "This resulted in a 79 percent increase in my 2018 revenues."
Last year, Portis expanded the scope of her business to include several Fortune 500 companies, universities as well as government agencies. Her company has several certifications including Woman Business Enterprise (WBENC) and Minority Business Enterprise (MBE). Her team consists of two full-time employees, 2 part-time employees and has reached $1 million in sales.
Portis overcame long odds and many setbacks to become a successful entrepreneur, and she often shares her story to inspire others. "I was abandoned when I was 18 months old by my mother, and my father was in prison where he later passed after serving 19 years of a 20 year sentence," she says. "By the age of 18, I was pregnant and living in a Y.W.C.A., and by 19 I was living in a homeless shelter with my 9 month old baby and pregnant again."
Not one to give up, she got her G.E.D. and enrolled at Kent State, earning a bachelor's degree in education and ultimately earning a master's degree in management and organizational development from the University of Phoenix. "I'm proof that no matter who you are or what you do, anything is possible," she says.
She recently completed studies at Cornell and was part of the Bank of America Women's Entrepreneurship Program, and won a pitch competition and a $5,000 scholarship to Dartmouth's Tuck School of Business. Her company was recognized by the Horizon Interactive Awards, a prestigious international competition for interactive media producers. She also works with Karen Malaga and takes full advantage of ACE's advisory services.
"At this point, even though I probably could get traditional financing, I still would stick with ACE," she says. "They offer so much more than just capital alone. They provide so many helpful resources including a business advisor, bookkeeping, webinars and networking opportunities. Plus, they really care. That makes a difference to me."
To learn more about how ACE can help your business with
Capital, Coaching and Connections
please contact one of our lenders at loans@aceloans.org
or call 678-335-5600.